My fall list (so far) contains the following items:
Two pairs of jeans: one in black and one in dark denim
A pair of pants, preferably navy
Three dresses that can I can wear both day and night
A new lightweight blazer or jacket
A pair of comfortable wedges or booties
Two silk button downs
This past weekend I was able to check the  first item off  my list.  I found the perfect lightweight blazer.   My Gap purchase hasn't come in, so I am not sure if I can check the jeans off yet.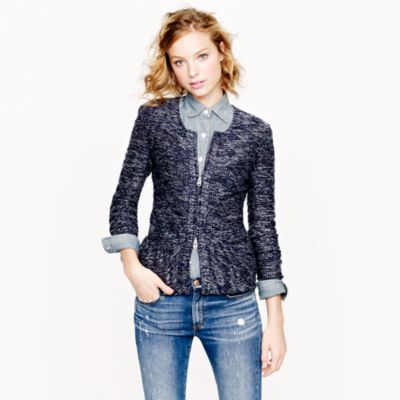 This J. Crew jacket is fantastic.  The fit is lovely and since I live in a warm climate , I love that it isn't lined.  If you live in a cooler climate, you might not appreciate that it is unlined.  While the grey color is pretty, this navy is stunning.  I foresee myself wearing this all season long.
Have you made your first fall purchase?