I love spending time by the beach, pool, and lake, but unless I am actually in the water, you will not find me prancing around in my bathing suit.  You will find me in my swimsuit cover-up , giant hat, and sunglasses.  More than likely I will be under a tree, umbrella, or anything that will keep the sun's death rays from burning my skin.  I have tried to just rely on sunscreen for protection in the past, and inevitably end up burned, so I happily wear my cover-up for protection.  I have two current favorite cover-ups: one that resembles an over-sized shirt and one that is a little like a mini dress.
I have had this cover-up for a couple years now and have worn in a handful of times with skinny white jeans in the summer. I like this one for lounging around because it is roomy and quite comfortable.
The mini dress was a find at Gucci Goodwill earlier this month.  The mini dress gets worn when I need to  go somewhere like lunch on a beach or a beach bar.  Obviously, it is great for dancing.
If I were in the market for a new cover-up, this striped one from J. Crew would be on the top of my list.  While it is sheer, it would be perfect for lounging under a umbrella.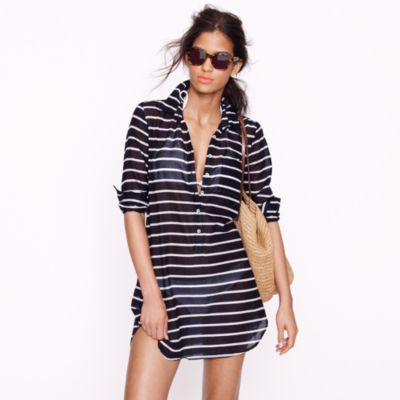 This DVF kaftan would also be on top of my list.  If you found yourself at a beach bar or restaurant, I would feel totally comfortable.  I might even be up for dancing in it.
What is your cover-up of choice?