Trench coats are definitely a wardrobe basic.  They are the perfect topper to an outfit in the fall or spring, and if you live in a warmer climate, winter too.  A trench automatically adds polish to any outfit, is classic, and goes with everything.  I have two trenches, but neither of them are perfect.  I love one when it is buttoned, but hate it when it is unbuttoned.  The other is a more of a rain coat and looks silly when the sun is shining.  So, I am on the hunt for the perfect trench.  I have tried to convince my husband that a Burberry trench is a necessary closet staple.  He does not agree.  Here are a few trenches at a variety of price points.
This Calvin Klein trench coat has a removable felt lining making it perfect for those in a colder climate. And, it is under a 100 dollars!
'
Love this Banana Republic trench. Since it is from Banana Republic, there is bound to be a coupon for it soon.
I love the orange details and clean front on this trench coat.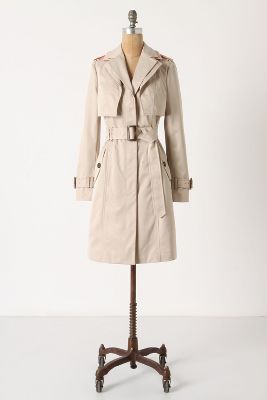 This trench isn't beige, but navy is just as classic. If I had money to burn, this would be in my closet.
And, the Burberry trench that is perfection, but not in my price range.
Do you have the perfect trench coat?